Sorcerer Profile
The software to suit all your primary roof systems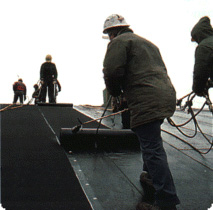 The Sorcerer software provides professional roofing contractors and estimators with a complete suite of tools for roof modelling, estimating and presentation in three dimensions - especially suited to BUR and single ply roofing materials, architectural metal and tiles, shingles or slate.
Sorcerer takes the chore out of roof modelling and estimating. The estimator gains immediate benefits in producing accurate designs and precise quotations for a wide range of roof designs and a total extraction of all materials. A complete set of detailed forms is produced so that everyone involved in the process has a record of the proposed transaction.
Completing a job in Sorcerer
Completing a job is based on what we call "The AppliCad Process". The process consists of four parts.

Wise investment in new technology is an imperative in today's competitive environment. Investments must demonstrate their value when viewed in terms of the 'cost benefit'. Sorcerer is such an effective set of programs it will pay for itself in just a few months on the basis of just one quotation a day.

Consider this:
Take a single job that would typically take say 35 minutes using traditional methods. The Sorcerer has the technology that allows you to complete that same task in just 5 minutes - a saving of 30 minutes. Saving 30 minutes each day adds up to an amazing 100 hours over a year - on just one job a day!
Even at modest hourly charge rates, any Roof Suite module will pay for itself in just a few months.
Starting with the Roof Master for roof modeling to the complete solution of Sorcerer - for low slope or steep slope; for residential or commercial/industrial - AppliCad Australia has the most cost effective solution for the professional roofing contractor or material supplier.
Sorcerer is the most cost effective solution for the busy roofing contractor.

In Summary:
Sorcerer is without a doubt, the most comprehensive and sophisticated software available for the estimation and quoting of roofing materials.
By using Sorcerer, and The AppliCad process, you will increase the accuracy of your quotes to an astounding level, in addition to increasing your productivity. All of which can have a rather prosperous effect on your bottom line.
AppliCad software ensures you will save valuable time, freeing you up to attend to the more important aspects of your business and eliminate costly quoting errors, helping you to maintain competitiveness in today's tough market.
---
Order Now! - Product Pricelist/Order Form
---
Product Overview - - Product Features