Out and About
AppliCad is a truly international company these days and our travels take us to some amazing places and we meet so many wonderful people. This page tries in a small way, to recognise the journey we're on and the people that make it special.
This is part of our travel diary.
Keeping our travel diary up to date has become a chore because we're on the go so often. On occasions we go off to a training course and rush back to start the next one that we almost forget what we have done. Our apologies if your course doesn't get a mention here. It's not that we didn't enjoy your company, it's just that it was overwhelmed by other happenings.
Let's try to catch up.
Training West Africa
Raincoat Roofing Systems of Accra, Ghana have just completed three days with Ray Smith, learning the ropes with the latest version of AppliCad. None of the trainees had any exposure to the software at the start of the course. By the end of it, they were all smiles, anxious to continue their learning using the training materials provided.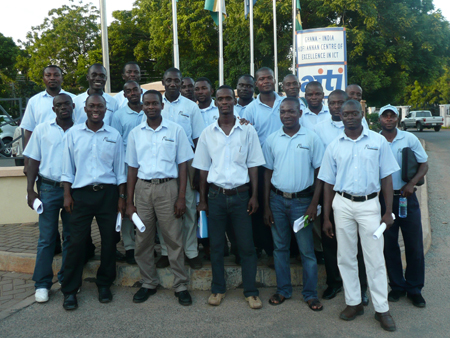 RainCoat trainees at the Kofi Annan Centre in Accra.
Training continues unabated and this month we're in Ghana, West Africa training 30 people in the use of our software. Among the group was a bunch of guys from leading metal roofing manufacturer from Domod Roofing. Spot the odd guy out! Well done to Kwasi and his team.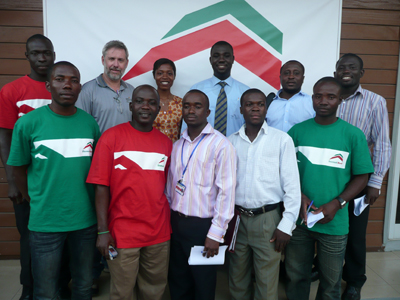 Staff of the estimating department at Domod Aluminium, Accra with Ray Smith.
Training Days - West Palm Beach, FL
West Palm Beach is the epitome of Florida life style and Florida architecture. Below is an apartment block in down town showing off typical Florida style with the most pleasant of sidewalk restaurant dining available.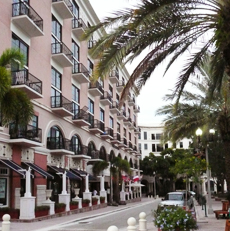 The most recent show was International Woodworking Fair in Atlanta. An awesome event of absolutely everything to do with wood completely filling the venue - 3000+ exhibitors! AppliCad re-launched the FlightMaster stair design software and it was very well received.
One of our new customers Lloyd Patterson of Stairco who has come on board as a development partner chatting with Ray at the IWF in Atlanta.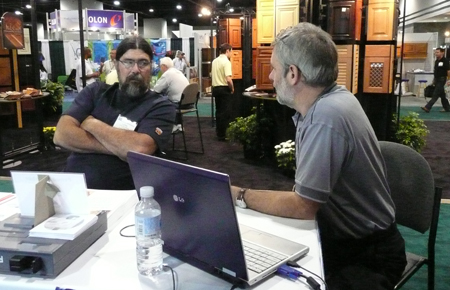 Toughing it out in France
One notable training trip was to France where the trainer had the opportunity to spend a gorgeous spring day in Paris. It is no wonder that they make movies about that subject. What a treat it was to be able to wander the streets and lanes of Paris. One is inevitably drawn to the river Seine that runs through the middle of Paris and we just had to share this pic with you. Obviously, there are many undocumented navigating hazards on the Seine. This guy wasn't going to get into trouble! Check out all his fenders.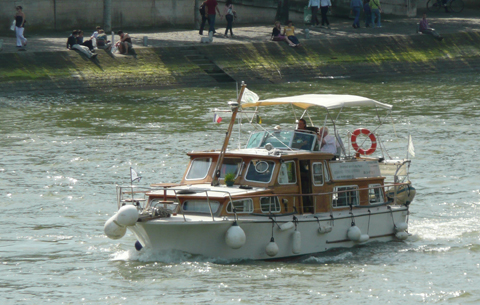 There were 100's of other pic's of Paris, but you can see those in any old travel brochure.
Of course, we were not in France for fun. Work had to be done too and that was a three day session with the guys from Prive in Châlons-en-Champagne. Since the trainer didn't speak any French (he did learn many French words for various roof features) thanks must go to the Prive guys for their patience and hospitality. It's now over to these guys to use AppliCad's Roof Wizard to make more money for the company.
L - R - John Cooper, Ray Smith, Denis Molinier, Romain Moreno and Guillaume Perotin take a break.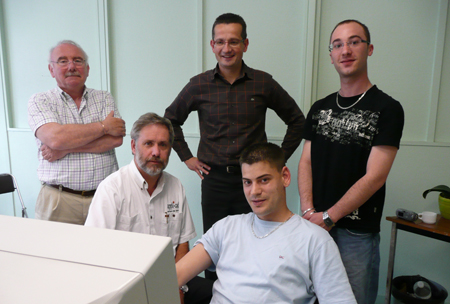 Roof India an outstanding Success
After many trips to India during the past few years, this trip was much anticipated. We were sharing the space with worldwide fastener company, also based in Melbourne, to make up the Aussie stand. Blow up kangaroos and all. The trip included a two day training session with all the crew at Multicolor Steel. My thanks to everyone's hospitality and the challenge of conducting basic training in Australian/Hindi. Who said training wasn't fun?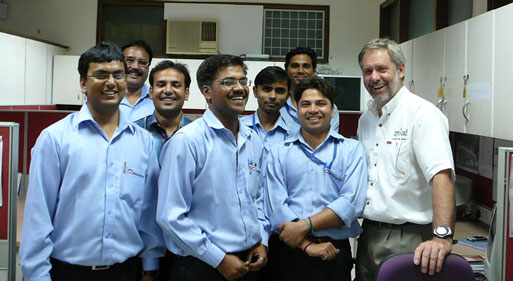 Training in Dominican Republic, Santiago
Everywhere is on the way when you live in Australia, everywhere that is except Santiago, Dominican Republic. Immediately after the training session in Vegas, Ray was off to Santiago via NewYork where we did a two day training session for the crew at Acero Estrella. Great bunch of people and they were very patient with the fact that the trainer didn't speak Spanish.

October is MetalCon month and this time we went off to Vegas - I think they have a dedicated nuke power station to power this place up?

Very Busy Interbuild UK
Interbuild 06 was probably down on numbers according to reports, but that didn't stop us. We had a most successful few days. Apart from frustrations with the wireless internet service provided by the Exhibition venue, everything else was very well done.
Below is the stand we had in one of the 12 very busy halls at the National Exhibition Centre (the NEC).