Bad news is what you make of it.
In a tough economic climate you need to
manage your estimating.

AppliCad's Roof Magician can help.

We all know that "more quotes done equals more quotes won!"
AppliCad's Roof Magician software is a clever software program that automatically creates correct pitched roof geometry using the most basic of information, then automatically creates the complete BoQ from the 3D roof model of all the required materials for your tiled roof - including accessories, underlayment, trim, fixtures and fasteners.
Once complete and checked, up to 20 separate reports may be generated including roof plan, customer quotation, material list, order forms, installer's labour summary, workshop details and isometric view and more.

- The most cost effective solution
- Automatic pitched roof design -
- Automatic report & material list generation
- Fast and absolutely accurate proposals
- Win more work with professional client presentations
- Retro-fit pitched roofs on flat roofs
- Automatic quantity checking built-in to the software
- Tile quantities by area or by coursing
- Market tested and industry proven in 34 countries
- Fun and easy to use 3D modelling tools
- Save pre-defined labour rates, pre-defined accessory definitions, pre-defined trim package
- Less time designing roofs and estimating roofing materials
- More time for job management
- Improved efficiency yields reduced wages and increased profit
Just three easy steps to more successful bidding -
Model the roof in 3D: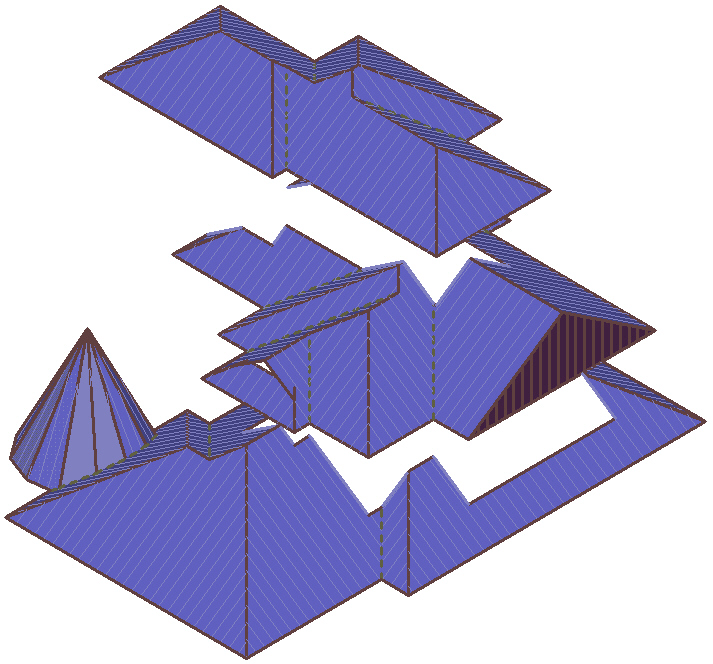 Check the roof geometry and pay rates: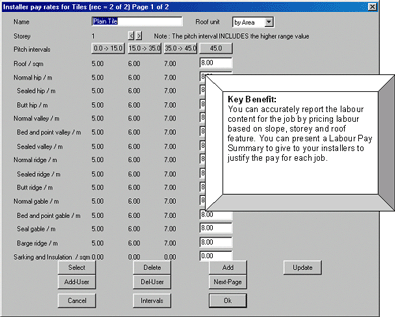 Print the quotation: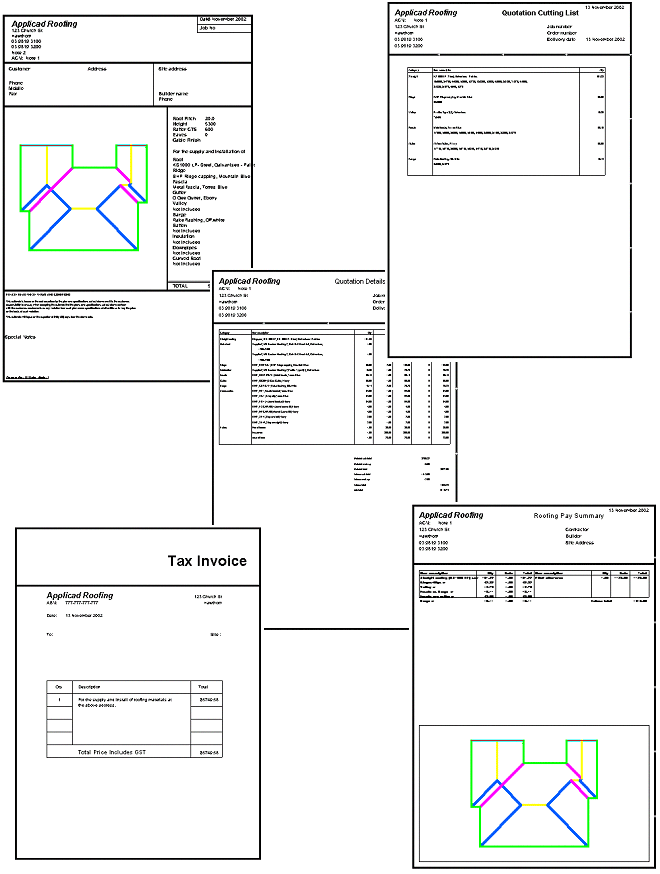 This is all so simple.
Great new pricing makes AppliCad's Roof Magician even more easily justified. The package includes the Roof Magician software on CD (insert the CD and it installs itself); a comprehensively illustrated user manual and learner's guide; unlimited support and all updates for 12 months.
Don't sit and wonder how you will survive the downturn. Take action - take action NOW! Take control of your estimating, quoting and material orders. Implement AppliCad's Roof Magician in your business and see the look of pleasant surprise on your customer's face. Quick service, accurate estimate, top quality quotation with roof plans included.
---
AppliCad is Up and Away
There are very busy months ahead for AppliCad with events in West Africa, New Zealand, India, USA, Africa, back home and then back to the US. It is a tough schedule for the whole team, but that is what happens when you are so successful in so many places. A positive for our customers from all this activity is the fact that AppliCad has a very robust buffer built into its business model.
With business activity in so many places, we are protected to some extent by the negative effects of the downturn in building and construction that is effecting many markets. AppliCad has the depth of knowledge, experience, positive sales growth and client loyalty to ensure a prosperous future long after the memory of these problems have faded. It is still however, a lot of hard but rewarding work.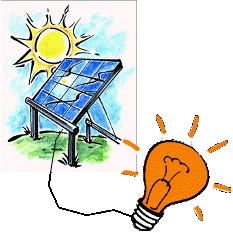 With such depth, AppliCad can afford the luxury of exploring the many technologies that might be used to advantage in the roofing and cladding business and if they work, to develop the ideas into fully fledged functions or products. Research and development based on decades of experience is what separates AppliCad as a company from so many others.
Thanks must go to our customers who constantly challenge our team to find solutions to problems and without that stimulus, AppliCad wouldn't be where it is today. What a team we make!
Well this month we are pleased to announce new functions for planning and costing solar cells on your roof. Photo voltaic cells or PV cells are the latest big thing to hit a roof near you and AppliCad has developed tools to plan and cost them as part of your roofing project. Click this link to see more info on this.
---
The Principle of Helping Customers
All our customers are important. Size of the business is not an issue, nor the number of operators. When you invest in AppliCad software you have made one of the most important investments in your business. The customer service team at AppliCad know that and accept the responsibility to you to help make it a productive tool in your business.
Call us if you need help. That is what we're here for.